As previously advertised, I'm a slow reader. How about you?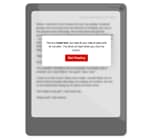 Source: Staples eReader Department
I read, it says here, 443 words per minute, 77% faster than the national average. If I could maintain that pace, and not let my attention get caught by Teh Shiny, I could read
The Lord of the Rings
in 18 hours.